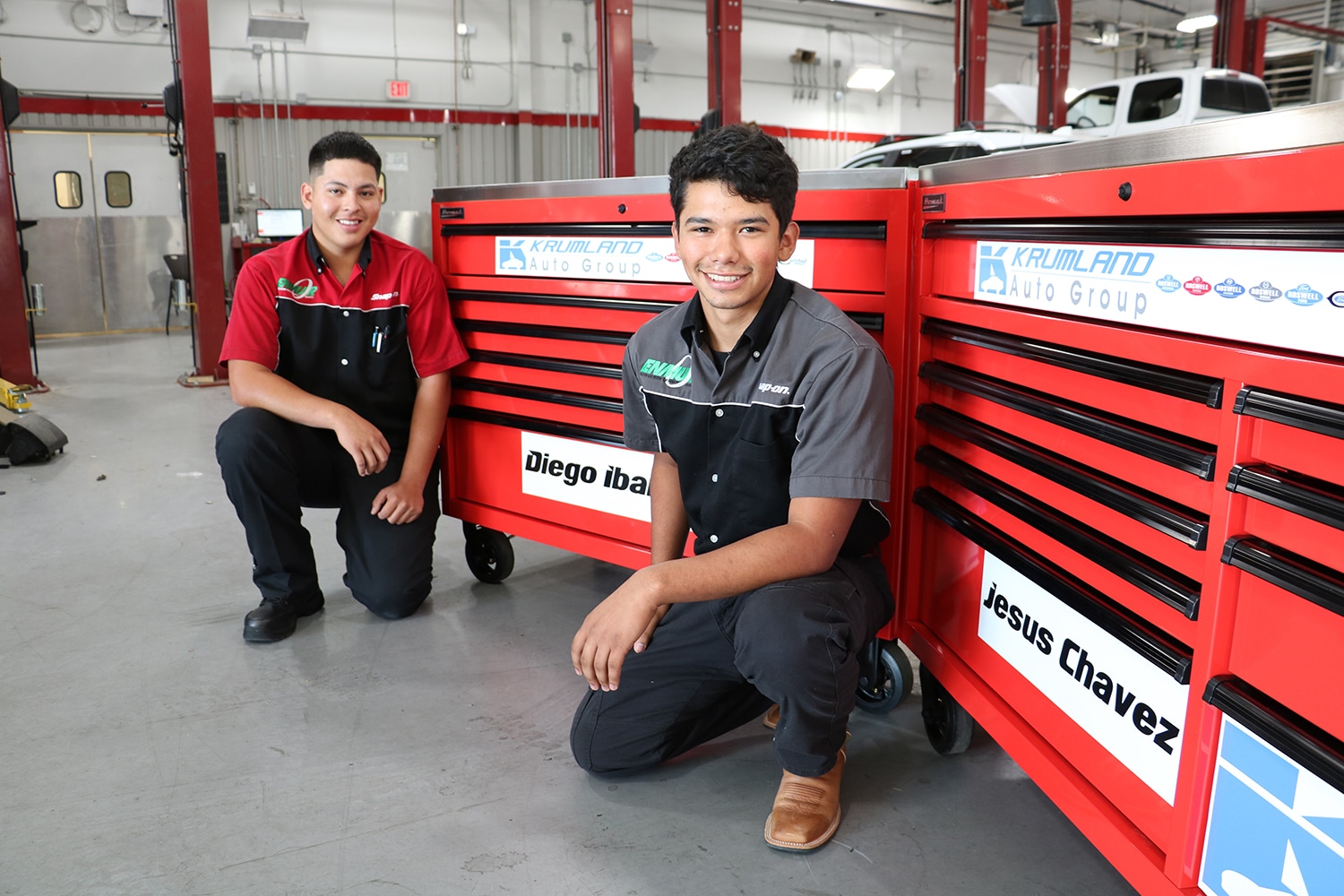 In the automotive industry, it is extremely hard to find solid, qualified auto technicians to work on automobiles. Add that we are in SE New Mexico & it becomes an even greater challenge.
With that said - the Krumland Auto Group started to work on "grooming our own".
For the past 10+ years the Krumland Auto Group has worked on building an established relationship with Eastern New Mexico University - Roswell (ENMU-R), specifically the Automotive Technology Program, to help promote the profession.
Recent work has opened the door for Career Technical Education (CTE) and the need for this type of employee in the workforce across our nation.
Together, ENMU-R & the Krumland Auto Group got to work diving into this area, including meeting with representatives from the Roswell Independent School District (RISD) to try and get to these students at an early age.
Our country has been pushing for our youth to go to college and get a degree, however, there are many jobs out there that do not require a degree. Granted, they do require a rigorous education and a desire by the student to get the job done.
We have put together the Krumland Auto Group Scholarship Program for the Automotive Technology program at ENMU-R.
As students enroll for the 2-year Associates Degree program at ENMU-R they will have the opportunity to complete an application to be considered a candidate for this scholarship offered by the Krumland Auto Group. 
 Recently, we met with all interested students and their parents to discuss taking advantage of this amazing opportunity.  From there they completed the application, which included questions that made them think:
• What are your career goals?
• What are your personal goals?
• Are there any obstacles or difficulties that you will need assistance with to achieve your goals and be successful in this program?
• What, if any, additional education is needed to reach your goals?
ENMU-R & the Krumland Auto Group reviewed all applications, and, from those, found three (3) students of interest.
Those students were called to set up an "interview-type" meeting that included their parents. We feel that it is important that the parents & family understand that we are developing a partnership with their child and we have a deep desire to have this scholarship give their student hope. 
Roswell has something to offer  -- there is a career path available… for the right student.
After completing the interview process, two (2) were selected and were offered The Krumland Auto Group Automotive Scholarship. We would like to congratulate Diego Ibarra and Jesus Chavez, recipients of the first ever Krumland Auto Group Automotive Scholarship. They will each receive a top of the line 41" RS Pro Roller Cabinet tool box complete with tools.  
Students apply for the scholarship through the Automotive Technology Program Director, Eric Gomez and Kimberly Andazola, Scholarship Coordinator Financial Aid Department, at ENMU-R. This scholarship process will renew each semester, and every student, whether or not they are selected, has an opportunity to put their name in the hat & have an opportunity to be the recipient of this KAG Scholarship.
We are very excited to partner with ENMU-R on this venture.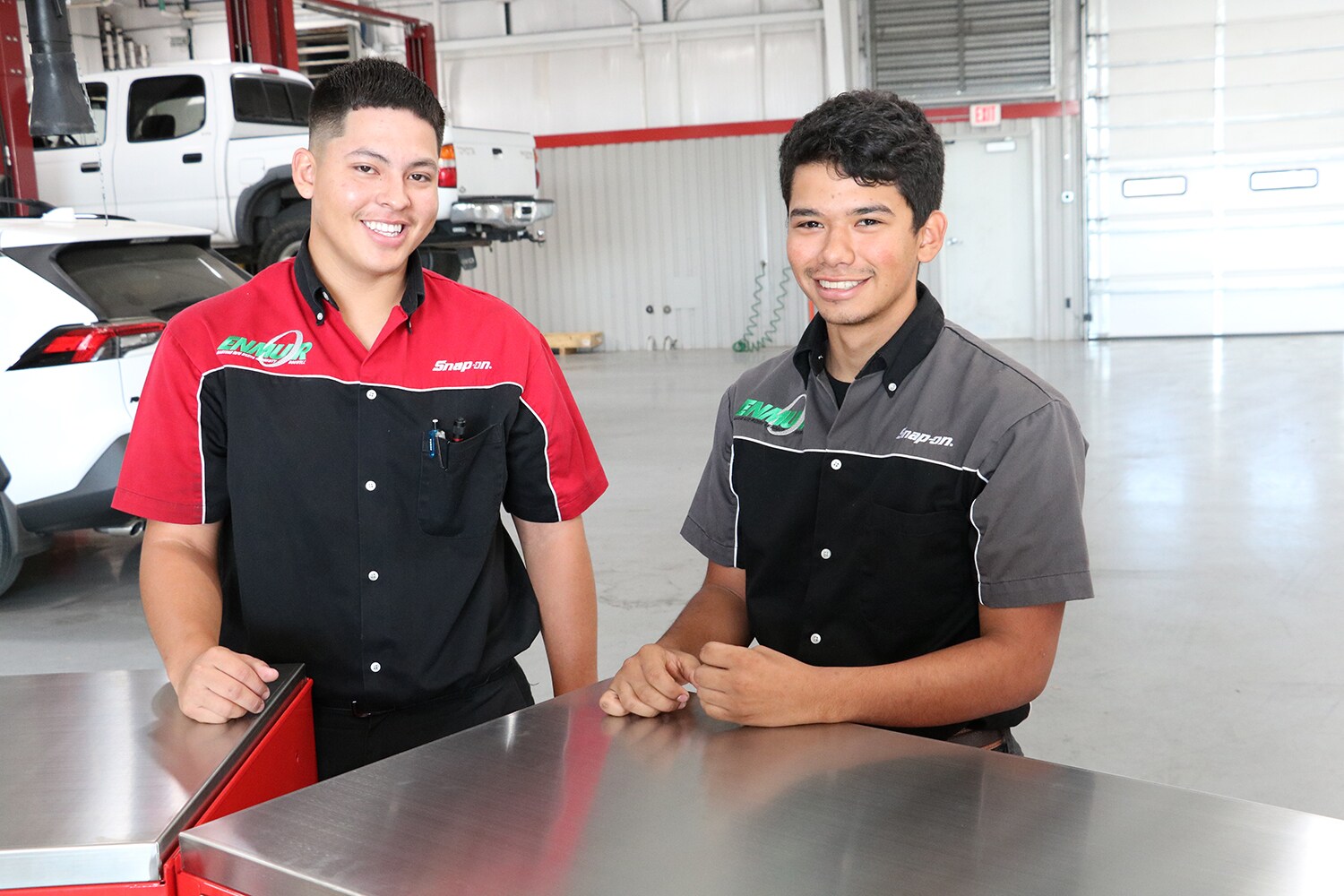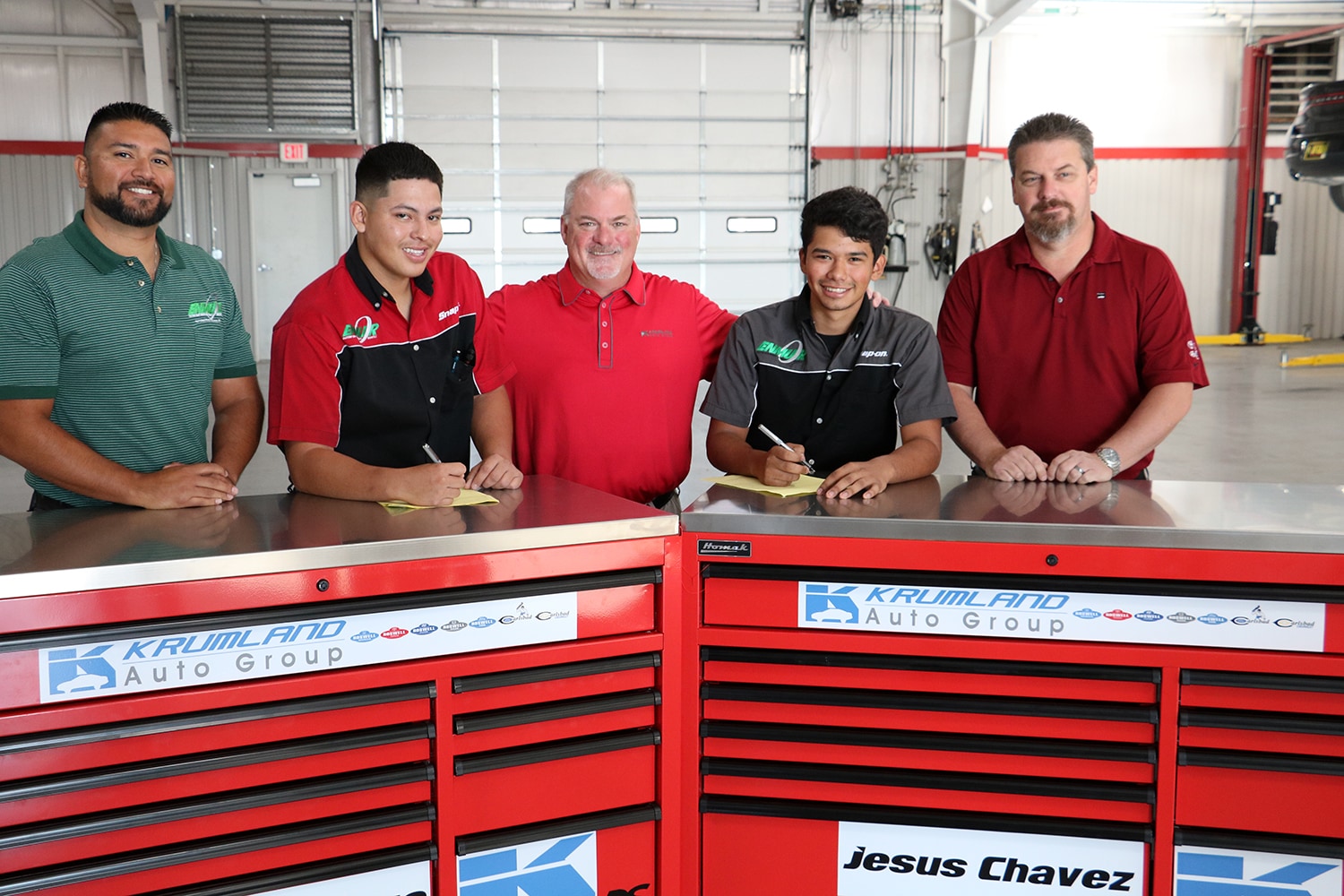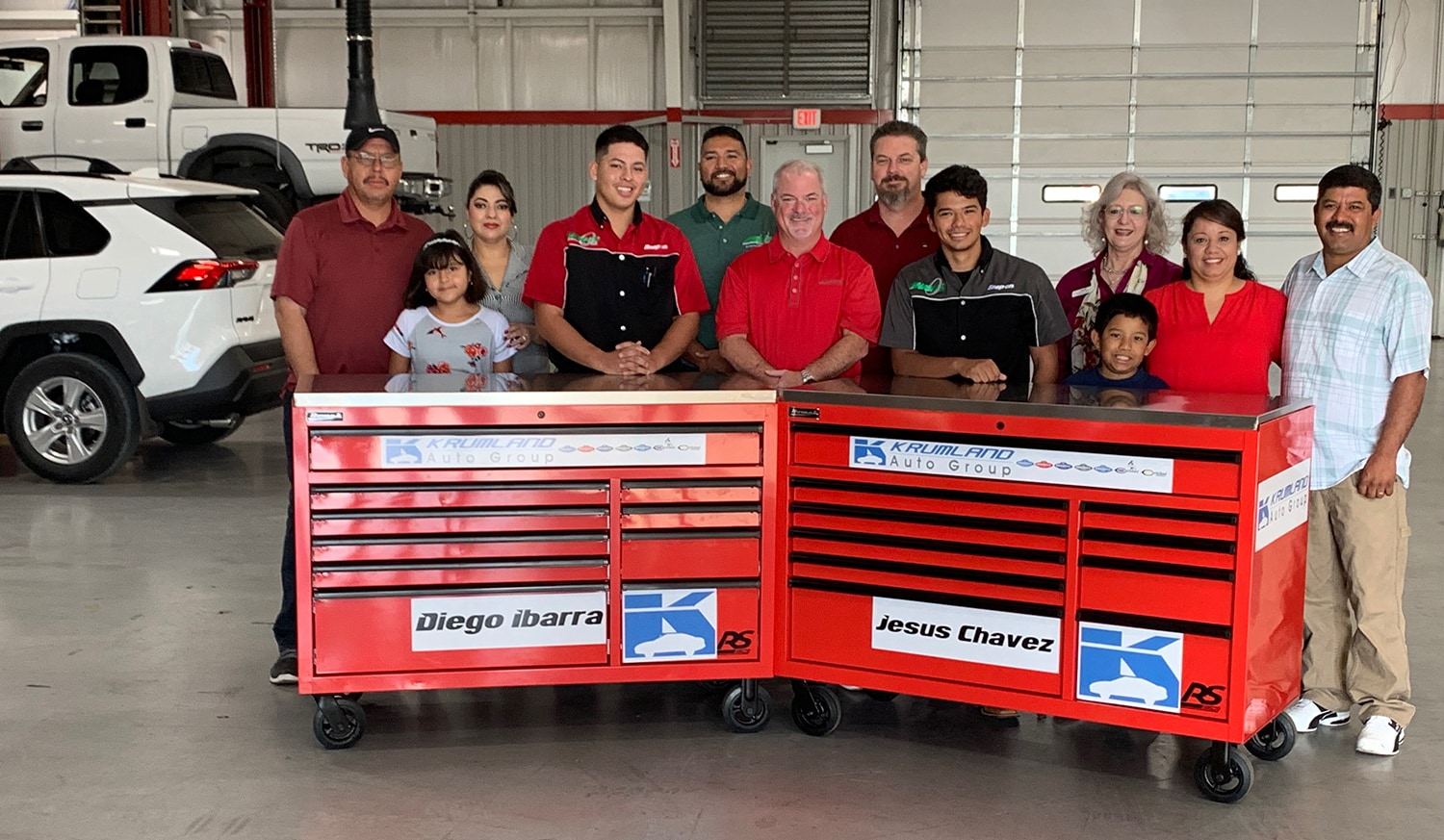 Group photo from left to right:
Diego Ibarra Sr., Itzel Ibarra, Claudia Ibarra, Diego Ibarra, Eric Gomez, Michael Moore, Jim Collins, Jesus Chavez, Annemarie Oldfield, Sebastian Chavez, Erika Chavez, Adalberto Chavez.
 Gentlemen from left to right:
Diego Ibarra and Jesus Chavez
 Scholarship signing from left to right:
Eric Gomez, Diego Ibarra, Mike Moore, Jesus Chavez, Jim Collins